On June 18th we went to Tsujido beach for Jibiki Ami and family day!
In the morning the weather was just perfect for our event. The wind was at a gentle breeze which helped with making our fire for the barbecue.
The children played and had fun collecting sea shells while the parents relaxed!
Shortly after, everyone pitched in to bring in the fish from the sea for us to eat.
The food was so delicious and everyone was full.
After eating, playing and singing the children lined up for a wonderful suica wari event. The watermelon cracked open and we all jumped for joy!
Although the rain wasn't expected it came at just the right time at the end of the event.
We all had a great time and we hope you can join us next time!
大漁!!! 地引網@辻堂海岸
今年の地引き網は大漁でした。
釣り好きなお父さんやお料理上手なお母さんたちがお魚をさばいてくれました。
火おこしやBBQのお手伝いをしてくれたお父さん、お母さんたちもありがとうございました。
BBQもおいしかったし、フラダンスもみんな上手でした。
引っ越しで転園したご家族や卒園生のご家族もたくさん来てくれて懐かしいお顔がそろいました。
生シラスがすごーくおいしかった。
スイカわりの間に雨が降り始め大急ぎで解散。
先生たちはびしょびしょになったけど楽しい1日でした。
みんな参加してくれてありがとう。今回来られなかった人も来年はぜひ!!!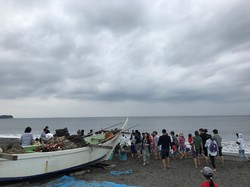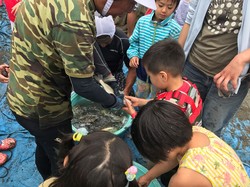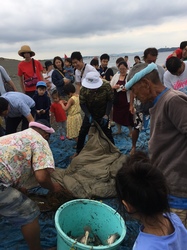 http://www.newworldinternationalschool.com/