Welcome to an insight into K5's Graduation Day.
Last Friday, NWIS reluctantly but fondly bid farewell to our wonderful 2019 K5 class graduates with a touching graduation ceremony.
The stage was honourably set with gold balloons spelling 'CONGRATS' draped across the wall in front of black curtains.
Backstage, our graduates were excitedly getting ready, and helping each other dress up in their graduation gowns.
With all teachers, students, friends and family present, the graduates walked in and took their place in line as their name was announced.
After the applause, the graduate's K5 Head teacher, Tom came forward to share his speech.
Despite being a big bear, even he would become a blubbering baby before he finished his speech! School principal, Rika shared her thoughts and hopes for our graduate's future. Her speech delivered flowing rivers of tears.
Our graduates came forward one by one to share with everyone their favourite memories in kindergarten and their hopes and dreams before accepting their diploma.
The memory of Kidzania proved to strengthen many friendships and future dreams included to be a shopkeepers as to sell tissues and cheese.
Our current and continuing students then sang a farewell song to our graduates, no doubt feeling the loss of their older friends in the next school year.
Our graduates then sang a song they chose to perform for the attendees and gave it their all – singing with real emotion, connecting to the words they sang.
Presents were presented to our graduates, school albums, DVDS, tote bags, flowers and a published book of the graduate's creative story assignment!
The graduates could not help but cheer with excitement, awaiting the moment they could truly enjoy their new treasures.
The graduate's parents came forward to share their wonderful written speeches, many making the effort to speak in English.
Once more, tears flowed as their thanks and appreciation to their children and school spoke volumes of their feelings.
Our graduates rose one last time to sing a farewell to Kindergarten, once more feeling their moment in kindergarten was truly coming to an end. Soon after their hats flew into the air with a cheer!
Their journey to first grade had taken its first step… well after a lunch party was had, where staff, graduates and family sat together and enjoyed laughs and happiness as they witnessed video message surprises from old friends and teachers, and relieved memories with photographs from their school past.
Congratulations again graduates!!!
We will miss you very much.
Please come and say hello at any time!!!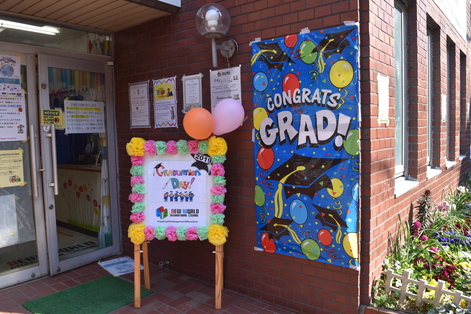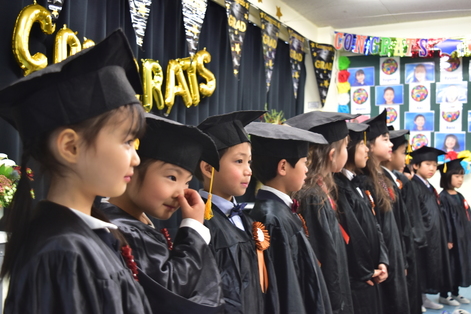 https://newworldinternationalschool.com/
2019年途中入園受付中 (クラスにより若干空席あり) 説明会開催中
ご予約は
お電話03-3305-0573
メールn.w.i.s@newworldinternationalschool.com
日本語でどうぞ。n.w.i.s@newworldinternationalschool.com