Halloween
Halloween's over now, did everyone get lots of yummy treats?
We hope everyone had lots of fun during the party playing games like Fishing, Beanbag Toss, and digging for treasure in some goopy slime!
We got to see all kinds of creepy, cool, and cute trick or treaters this year. Princesses, heroes, pirates, ghosts and pumpkins; everyone looked amazing!
After the games we all headed out for trick or treating around town and gathered at the park at the end where we met many of our graduate students.
Thank you to everyone for helping us put together another great Halloween Party!
Trick or Treat!
バットマン、プリンセス、しろうさぎ、魔女、ミツバチにお化け!
たくさんのかわいいTrick or Treatersが集合です。
Pixie's garden, Halloween Fishing, Ring Toss, Knock the cansなどなどたくさんのゲームコーナーやTattooコーナーに参加した後はいよいよ夜の町にでてTrick or Treat!
いっぱいキャンディーをもらったかな?  
最後は公園で例年通り卒園生もたくさん集まりました。
懐かしい顔に会えてうれしかったです。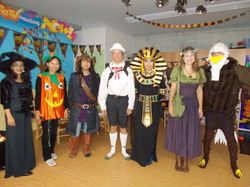 http://www.newworldinternationalschool.com/