Our `Winter Around the World` week was a whole bunch of fun.
There were children from all of our programs as well as some first time visitors to NWIS.
Each day we cooked together to prepare our own lunch.
Next time NWIS Mommies need help in the kitchen, they may want to let their children chop the potatoes, as there were many excellent potato choppers in our winter course, using a serated plastic knife on a cutting board.
The children also really enjoyed making different Christmas decorations, especially the Ukranian decorated eggs, the Christmas Tree candles, and the painted wooden shoes from Holland.
Making gingerbread cookies was great fun, and it was so cute to see how each of the children decorated their own gingerbreadman so uniquely.
Winter Course was a time for making some wonderful holiday memories together,and we hope to see many of you again next year!
お教室はクッキーの焼き立てのにおい

みんなで飾り付けをしてかわいいジンジャーブレッドマンができました。
ウクライナのクリスマスエッグ、オランダの木靴、クリスマスツリーキャンドルなど子供たちの個性を生かした作品が仕上がりました。
ランチは毎日クッキング!トマトスープやホットドッグなどを作って食べました。
Chop! Chop!Choppity Chop!Chop off the bottom and chop off the top.What's left in the middle we put in the pot. Chop! Chop! Choppity Chop!
みんな、楽しそうにジャガイモやなす、マッシュルームなどを切りながらチャンツ。
各コース、NWISメンバー、外部からの参加者も来ていただいて、
20名以上の方にご参加いただきました。
ありがとうございます。
Merry Christmas everyone!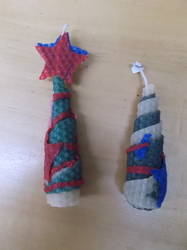 http://www.newworldinternationalschool.com/