Two weeks ago K4 embarked on an interesting project.
We had brought in socks to make sock puppets.
First we designed the puppets on paper and also made a 3D model with playdough.
Together with Bram we made the underlying structure based on our design.
Once everyone was finished making their sock, it was time to add the features.
We used Styrofoam balls, melamine foam, felt, faux fur in many colors and more to create our puppets.
We like our puppets so much that we have been playing with them during choice time in the morning.
This week's theme is feelings.
We are using the puppets to express different feelings.
Since the puppets can't really change their facial expressions, we are focusing on the use of our (puppets') voices to reflect feelings.
It is fun and exciting to play with our puppets!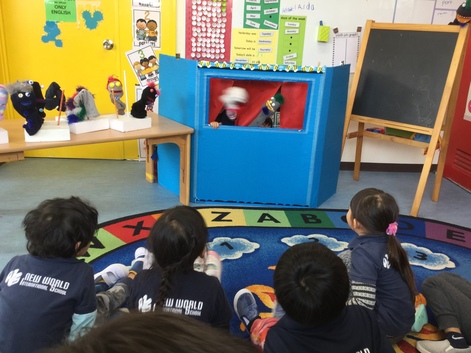 https://newworldinternationalschool.com/
2019年4月入園 説明会開催中
ご予約は
お電話03-3305-0573
メールn.w.i.s@newworldinternationalschool.com
日本語でどうぞ。n.w.i.s@newworldinternationalschool.com