SETSUBUN
Last Friday was super exciting, though super scary for some of us.
Demons would be coming to school!
When we had all gathered in the big room, Kynan's Mom explained how Setsubun came about and how Japanese people celebrate it.
Eri's and Yuika's Moms told us the Setsubun story in Japanese.
After the story it was craft time.
Ryusei's Mom explained how the mask was to be assembled.
Once we had all found our tables, we started right away.
Many Moms and a Dad had come to volunteer and help us to make the masks.
It was fun.
K4 and K5 cut their own features, so they could make their masks even more impressive.
So far it wasn't scary at all.
After the group photos we all sat down on one side of the classroom.
The Moms and Dad handed out roasted soya beans.
That was our ammo to fence off the demons.
Then it happened! The demons came!
They were swaying big clubs, one even a knobbed club! We threw our beans for dear life, while shouting,
"Oni wa soto! Fuku wa uchi!" (Demons out! Good luck in!).
We were stronger than the demons and they left empty-handed.
No one got snatched, we were all safe.
Now we hope lots of good luck will come this year.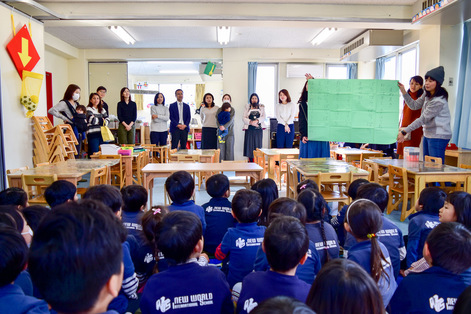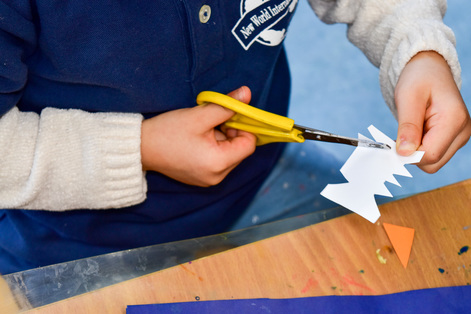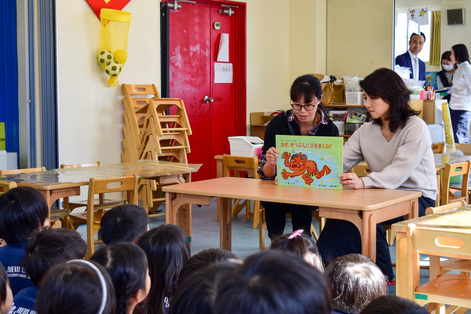 https://newworldinternationalschool.com/
Winter School 受付中
2019年4月入園 説明会開催中
ご予約は
お電話03-3305-0573
メールn.w.i.s@newworldinternationalschool.com
日本語でどうぞ。n.w.i.s@newworldinternationalschool.com