Welcome to an insight into the class life of K4's first few weeks!
New school year. New room. New class. New friends. New teachers. Quite a few things to absorb, process, and adjust yourself into!
For the first few days, K4 learned about the new classroom rules, routines, and expectations. They found out they are split into 2 teams – the Sun and Moon team for all their math, language and craft fun!
They have begun writing the alphabet letters and numbers and have also begun their reading journey, first learning CVC words from simple books. They also have been enjoying writing for their first journal, writing about the week's theme and illustrating pictures to go along with the words.
In P.E. time, they are developing skills to catch and throw balls, beginning with rolling balls to their partner… with lots of stretches beforehand, pretending to be skydiving or riding a bicycle!
They created large and beautiful cherry blossoms art, using their finger to make the beautiful pink, red, and white petals that fall from the tree. They also expressed emotions of anger, sadness and happiness while splatting paint onto a large sheet of paper! They left an explosion of colour! They are proudly displayed in our classroom.
K4 are enjoying singing songs and having park time and this is only the beginning of the school year! They have so much to look forward to!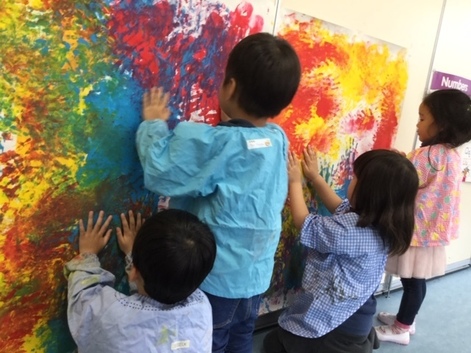 https://newworldinternationalschool.com/
2019年途中入園受付中 (クラスにより若干空席あり) 説明会開催中
ご予約は
お電話03-3305-0573
メールn.w.i.s@newworldinternationalschool.com
日本語でどうぞ。n.w.i.s@newworldinternationalschool.com