Potato Digging
Guess what time it is?
It's Potato Digging time!
On October 18th, teachers, parents, and all the kindergarten & preschool kids went on a mini field trip to the nearest community farm.
The weather was beautiful our wish for a sunny day has come true!
The kids wore their awesome boots and gloves, grabbed their cool shovel, and a huge smile on their face with excitement.
Parents and kids had lots of fun digging up the sweet potatoes together under the clear blue sky.
Some dug up the size of their head!
Others found a cute tiny one!!
I wonder what we will be making with those sweet potatoes back home.
Sweet potato cake? Or perhaps sweet potato fries?!
Afterward we all enjoyed having a picnic under the trees for lunch time, a perfect weather for a perfect picnic hour.
Mm-mmm, yummy in my tummy!
秋晴れの一日、おいも畑でのんびりと過ごしました。
今年は大きなおいもがたくさんとれました。
力を込めて1,2,3.大根もとれたね。
木登りをしたり、畑の周りを駆けまわったり、虫取りをしたり。
歩いて10分くらいの所にこんな自然があるなんて、ラッキー。
スクールではおいもを使ったクッキングを予定しています。
お楽しみに!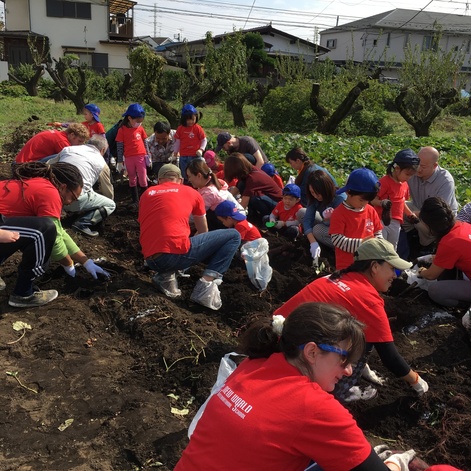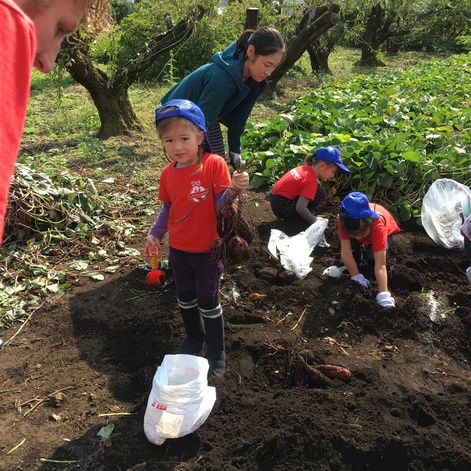 2018年4月入園希望者 説明会開催中 11月10日土曜日 12月1日土曜日 要予約
https://newworldinternationalschool.com/